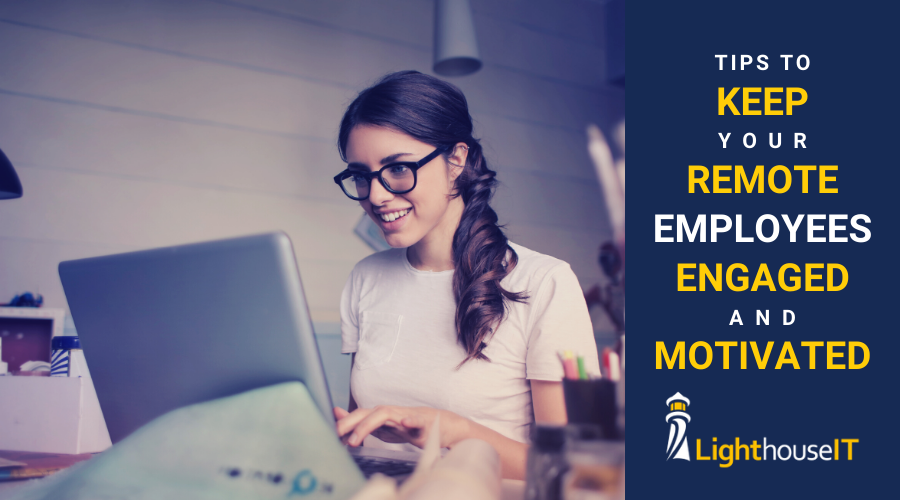 Due to the COVID-19 pandemic, businesses are taking stringent measures to ensure the health and safety of their employees. One way they're doing so is by encouraging social distancing through work from home policies.
While remote working was a fairly common trend in Texas before the crisis, many businesses were not ready to shift to a fully remote environment. After all, implementing a successful remote working policy comes with many challenges. Businesses need to equip employees with technology that increases collaboration and efficiency. More importantly, since there are plenty of distractions from family and other household members when working from home, businesses must have a plan to keep employees productive and focused on their work.
To ensure your operations run smoothly, we've compiled expert tips you can use for motivating and engaging your remote team.
Utilize the right communication tools
A good flow of communication must be established with remote workers to keep them engaged, and it all starts with the right communication solutions. Email may be the top choice for formal communications and file sharing, but a remote team also needs feature-rich Voice over Internet Protocol (VoIP) phone systems and team collaboration tools.
VoIP allows you to make and receive calls over the internet. It provides features like call forwarding so employees never miss calls; automated attendants that streamline front desk processes; and high-definition video conferencing to give meetings and one-on-ones a more personal touch. Meanwhile, collaboration tools like Microsoft Teams and Slack are great for instant messaging, sharing files, and coordinating on team projects.
These tools not only make it easy for staff to communicate with peers and managers, but they are also crucial for building relationships and an active employee community.
Set expectations for workers
The next thing you should do is clearly communicate what's expected when employees work remotely. Make sure your employees know their responsibilities and daily goals, what apps they're authorized to use, how frequently they need to check in with managers, and what the ideal platform is for team communication. For instance, you can have policies that require employees to provide progress reports via email and discuss ideas via teleconference.
Additionally, it's important to set deadlines for each project and inform employees how their work will be tracked. If expectations are clarified (and mutually agreed-upon) from the beginning, it makes the remote working arrangement much more focused. Setting all these expectations creates a culture of accountability that motivates your staff to strive toward a common goal even if they're miles apart.
Is your business ready for a remote workforce?
Working from home is unavoidable in the age of COVID-19. You need to adopt a healthy and efficient remote working strategy so that your employees will be more productive. Download our free eBook for some tips to manage your remote workforce effectively.
Prioritize social interaction and facilitate virtual meetings
Remote workers tend to feel isolated from the company, which can lead to depression and heightened anxiety levels. One way to deal with these challenges is to build a connected and inclusive environment for your team. Weekly virtual meetings enable employees to get some face time with other people, share ideas, and discuss projects in detail. Managers should also engage employees with frequent one-on-one reviews and involve them in decision-making processes whenever possible.
But it doesn't all have to be business talk. Something as simple as a virtual hangout in which people update each other about their lives can make a world of difference. In fact, experts believe that setting aside time for fun, team-building activities is a huge mental health booster and motivator in and of itself.
Let staff set their own schedules
Remote working arrangements should be flexible, so don't constrain employees to a typical 9-to-5 workday unless that schedule suits them. Remember, employees may need to attend to their kids, do an emergency grocery run, or go to a doctor's appointment. Plus, if workers feel more motivated and productive at certain times of the day, there's no reason to deny them the opportunity. Giving them the freedom to control their schedule helps them balance their personal and professional lives.
Keep in mind, however, that there will be times you need staff to be at a fixed schedule. If there are teleconferences and meetings, your remote workers will need to sync their schedule with the team. Customer service employees must also work at certain shifts so they can tend to clients.
Provide additional training
Focusing on your remote workers' professional development is an effective way to keep them engaged. Whether it's through a mentorship program, online training course, or remote webinar, employees are more motivated when they're presented with potential career advancement opportunities. In fact, studies show that significant investments in job training helps organizations increase employee retention and decrease turnover. Employees may even develop new processes and reduce inefficiencies in your company by learning new skills.
Acknowledge employee performance
According to several studies, recognized employees are happier and tend to stick with their company for longer. When their work is valued, their job satisfaction increases and they're more motivated to continue producing good work. But how do you measure performance levels when everyone's working from home?
Instead of tracking the time employees put in every day, your evaluation method should be outcome-based. This means you must review whether employees are meeting predefined objectives and turning in high-quality work every time. Anonymous peer reviews are another great way to identify exemplary staff.
Once you've identified top performers, announce their contributions and achievements to the entire organization. You can do this through an internal social media group, company-wide email, or your cloud communication software. Then, encourage the rest of the team to do the same and offer rewards to motivate people further.
Minimize IT headaches
Finally, IT-related issues can be a massive hindrance to employee engagement. If emails and communication platforms aren't running like they should, then your remote staff won't be able to work together. Meanwhile, dealing with unexpected system downtime or cyberthreats can interfere with your employees' productivity and demotivate them the longer it occurs.
That's why you need a top-notch managed IT services provider like Lighthouse IT. We provide proactive IT support to ensure your systems are secure and running optimally at all times. This way, your staff will never have to worry about frustrating and time-consuming technical issues.
If your company needs robust communication tools or reliable IT support, Lighthouse IT is the answer. Schedule a free consultation with our tech experts today to find a solution that fits your business.